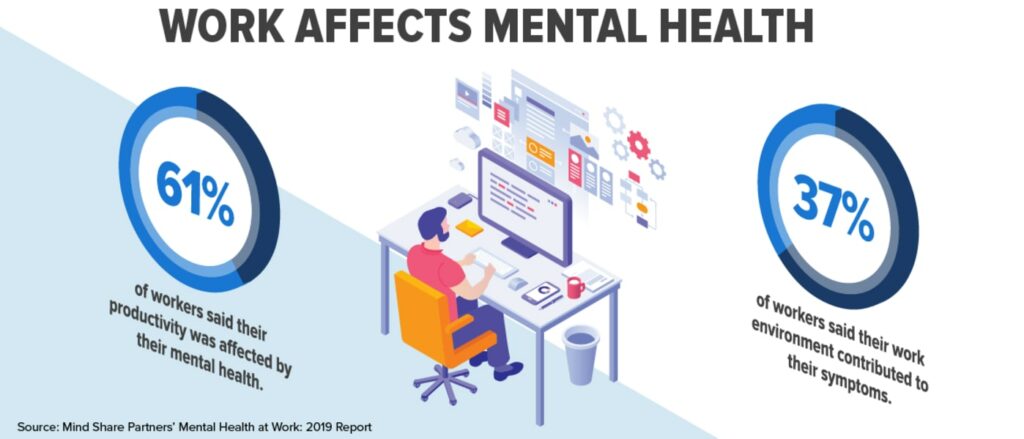 The success of the workplace is measured in a variety of ways. Achieving productivity targets, maximizing financial gains, and completing projects on time are a few of the customs that indicate a growing revenue for the company.
Employees are a critical part of the company for achieving success metrics. Thus, the importance of mental health in work environment needs to be considered as a primary element. Ensuring employees' mental health will benefit the business and the employees in all aspects of their lives. Additionally, improving the well-being of your work and investing in a mentally healthy workplace will help you and your organization. 
Why psychological well-being is essential in workplace?
A mentally healthy work environment and psychological safety at work play a positive and protective impact on employees' health and well-being.
Good mental health benefits people in the following ways,
A positive state of health improves Employee resilience, involvement, and engagement performance in the workplace.
Good mental health supplies positive energy, which benefits people at work and in other organizations.
Managers and leaders will often boost their relations, and experience to demonstrate improvement in job performance.
Reasons why your mental health well-being is necessary at the workplace
Impact on team, organization, and yourself 
A bad work environment has several adverse effects on physical and mental health. A bodily injury, poor psychological safety, the experience of trauma, and long-lasting stress sometimes become the origin of this stress. Some pressure is healthy because it motivates us and can improve performance. However, the impact of prolonged exposure to strain on our physical and mental health is quite strong. It can be harmful to both the worker and the workplace.
Many of us spend plenty of time at the workplace. At such events, human rights fundamentals protect you as an employee in the workplace. It is crucial for the well-documented implications of work on our health and happiness (both positive and negative) and the fundamental right to a good life. Employers are obligated to provide support and medical services to employees with health issues.
On the other hand, staying with positive mental health at the workplace,
Improve the quality of interactions
Build good working relationships and trust
Produce the most acceptable Relationships with friends and family
It affects your role and success (manager or leader)
Your health and well-being support lead others when your work in any organization. You were practical and efficient in a role that resulted in significant satisfactory achievements. When you are a manager or leader, you need to engage with the values and priorities of the organization personally. Being responsive in this area can help you be an inspiring leader.
Working environment, well-being, and mental health can all help you and your team interact with operational workloads, difficulties, and demands. In addition, the greater the relationships and the surroundings, the less time on things that distract, obstruct, or slow down work.
Excellent psychological health and well-being contribute to the following:
Greater adaptability
Improved workplace relationships
Better cognitive performance
It's a Legal implication
There is an evident international Member State trend in the regulation that work-related safety and health standards include psychological influences in the hazard identification criteria and risk management framework. Although it is not yet universal, many high-income nations have already implemented this change.
There may be instances when you must consider employment law and contractual implications, like when a person requires reasonable adjustments to their position. In such cases, It is critical to seek specific advice as needed.
Tips to improve the quality of psycological health in the Work Environment
Express your emotions 
Talking about your emotions can help you maintain good mental health and deal with difficult situations.
Stay active
Staying active in the workplace will aid in managing any organizational tasks.
Stay in touch 
Strong family ties and supportive friends can assist you in dealing with stress. In addition, friends and family can make you feel valued and included by providing different perspectives on whatever is happening inside your head.
Ask for assistance
Nobody among us is superhuman. We can become tired or overwhelmed by our feelings or when things go wrong. If items are becoming too much for you and you believe you cannot cope, seek assistance.
Take a break 
A change of scenery or pace benefits your mental health to do more or better work than usual. It could be as simple as a minute break from every task, a half-hour meal break at work, or a weekend trip somewhere new.
Do something you enjoy 
Stress generally reduces by having fun. Doing and accomplishing something you enjoy probably means you're good at it and boosts your identity.
Focusing on a hobby, such as gardening or solving puzzles, can help you forget your concerns and improve your mood.
Conclusion
As mentioned earlier, work is an essential part of our lives. It is the place where we earn money and often meet new people. A satisfying job can be beneficial to your mental health and overall well-being. Physical and psychological health are interrelated in the workplace as poor mental health is a risk factor for ongoing physical conditions. The stated information aims to improve the implementation of Evidence-based recommendations for psychological health references to deal with mental health problems and succeed at work.